First things first, looooooooooooooong time no blog/nail art! And I'm terribly sorry that I haven't done so in such a long time. I've abandoned this little baby for far too long and that's going end right now. I'm kick starting Naillion again and I'm going to try to be more frequent with blog posts. So stay tuned to see more nail art designs!
Secondly, it just so happens that Halloween is just round the corner, which gives me the perfect excuse to paint my nails all spooky. These bloody vampire fang nails are blood sucking-ly grim and will scare the living daylights out of anyone! Let's get started on this fang-tastic tutorial. I thought I'd try something a little different and try a GIF/stop motion tutorial. Do you prefer this type of tutorial? Or do you prefer the step-by-step in depth tutorials? Do let me know!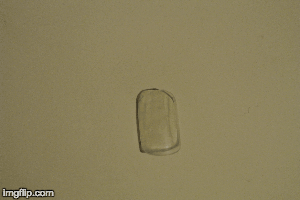 What you'll need/what I used: L-R: Barry M 339 black nail polish, Seche Vite Topcoat, Models own Snow White polish, Nails inc. Kate Spade New York Big Apple Red polish and toothpicks.
Step one: Paint a black horizontal strip across the middle of the nail.
Step two: Paint the top and bottom half of the nail red to create the gums.
Step three: Once that's dried you can started to add the teeth for your fangs. Start with the top row and then add in two long canines. Be sure to paint the teeth half way on the gums and half way on the mouth.
Step four: When the top row is complete move onto the bottom row of teeth and be sure to add in two long bottom fangs.
Step five: Once you have a full set of gnashers, take your toothpick and dip it into black polish and carefully outline each tooth/fang. Start with the top row of teeth. Once outlined your fangs will really start to take shape.
Step six: Once the top row is done move onto the bottom row.
Step seven: Now that you've got a set of fangs on your nails it's time to add a little blood. Take another toothpick dipped into red polish and dot spots of blood onto every other tooth. Focus on the fangs and add extra droplets of blood.
Step eight: Once all nails have completely dried finish with a fast-drying topcoat to protect your designs and prevent them from chipping.
And that's it! Here's the first of my many spook-tacular Halloween designs. These fang nails will suit both square and pointy shaped nails. Just be careful not to suck anyone's blood now.